Therefore, in this blog post, I wish to mention the biggest news and trends in 2022/2023 from the industry, that we can embrace today. Some are MACRO-trends, meaning they are designed to live for a long time (like, for instance, the trend for sustainable eco-products, multi-functional products, and natural products), while others are designed to captivate and fascinate, which we can name MICRO-trends, meant to be with us for the next 1 to 5 years (like, for instance, the trend color of the year by Pantone which is released every year). Nevertheless, the newest trends are all oriented to increase the comfort of everyday life activities, at home and at work.
1/ A MACRO-trend is SUSTAINABILITY: introducing different categories of products that are energy-saving, made of recycled materials, and incorporating new technology. Products, that in one way or another, improve living and working conditions.
Today we have more options for products made of glass, which is a material 100% recycled, from tables, coffee tables, consoles, libraries, and up to beds (Lago, Glass Italia, Fiam Italia).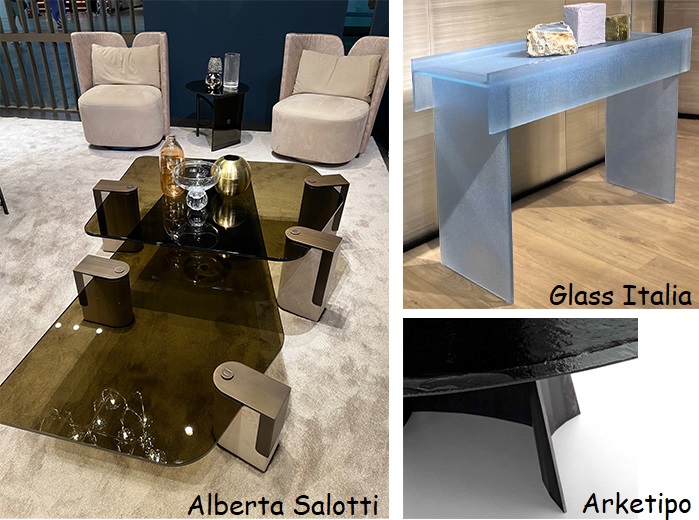 Nani Marquina presented Re-rugs, different carpets made of reprocessed wool, thus contributing directly to the reduction of unmanaged waste, as well as the reduction of CO2 emissions since it is not necessary to produce virgin material.
Such ideas had many producers, including a leader from the industry, B&B Italia, creating a special foam from recycled bottles and polyethylene to use for upholstering armchairs, sofas, and beds.
Another interesting idea had Kartell, recycling the plastics from coffee capsules Illy to make one of its iconic products, the Chair (named ReChair) designed by Antonio Citterio.
2/ Another MACRO trend is choosing MULTIFUNCTIONAL products, which can help transform an area into different functional spaces. For instance, a two-face library dividing the living room from the dining area, a console that can grow into a big-size table, a sofa with tray containers and back or side-library, and more.
3/ Trend number three, another MACRO-trend, is the NEW MINIMALISM with slimmer objects (libraries and walk-in-closets with slender metallic or wood structures, tables with transparent glass tops, a floating bed with transparent plexiglass base, etc.), soft warm tones (milky white, ivory, soft browns) and particular accents (a spot of red on a wall clock, a cachepot with tall green plant, etc.).
Lightness and transparency, clean, but not boring.
4/ A trend that is captivating more and more attention is the use of MIRRORS, not only as independent complementary or accessories, but applied on furnishings, from libraries to cabins, tables, consoles, and more.
Moreover, now we see it in different variants, from indoor use to outdoor installations, bronzed or golden plated, enlightened with led, of different shapes and maxi sizes.
We can create a group of mirrors of different sizes and shapes, or choose one big size for a WOW impact. Nevertheless, mirrors help enlighten any interior and visually make it look bigger.
5/ Along with mirrors, we have many furnishing pieces made of GLASS, which now can be color painted in so many versions, including imitating marble surfaces, woods, and other textures.
Today we can have a library with glass shelves, a big table with a glass top, a side cabin with glass doors and top, and even an entire kitchen with doors and a working top made of glass.
6/ WOOD remains on trend and now we are encountering furnishings made entirely in massive wood, as single material; these can be refined or left raw.
The wood can be left thick and straight, may be curved, or may be sharpened. It is fluid and is transformed as needed.
7/ Since we live more indoors, TACTILE IMPRESSIONS are at the core!
Now, every detail is chosen to offer some kind of tactile and visible impression: soft or hard, smooth or rough, curved or sharpened, warm or cold.
We mix and match is order to create a "playful ground", where the eye likes to travel around searching for different feelings, colors, and materiality.
8/ A great number of producers chose BOUCLE' FABRICS, made of wool or in mixed fibers, for upholstering sofas, beds, armchairs, benches, poufs, chairs, and other upholstered furniture pieces.
This type of fabric confers cozy feelings, and softness, and makes you feel welcomed. Today it is proposed in a wide range of colors, from total white and 50 shades of gray, to total black, including colored orange, red, green, blue, etc.
In top trends are the shades of creamy whites and light tones of all the other colors. The bouclé will be perfect in combination with linen, cotton, and lace in light tones.
9/ All upholstered pieces, especially sofas, are EMBRACING ROUNDED SHAPES, from the structure to the armrests and sittings.
Sofas are re-shapes, taking a softer and less structured form, looking natural and informal, and relaxed. New technology and a large scale of different polyurethane foams available today allow producers to shape furniture of all sizes and shape, and make them comfortable!
10/ Besides, more and more producers put the accent on creating DE-CONSTRUCTIVE furniture pieces. This is important for environmental reasons since after usage, we could easily split different parts for recycling and re-utilization (plastics, wood, metal parts, polyurethane foam, coverings etc.).
Therefore, many top producers, like B&B Italia, Zanotta, Flexform, Edra, and others create sofas from parts made of mono-material (tubular steel frame, stamp-shaped by size polyurethane foam blocks, removable covers with automatic buttons or zippers, independent feet, and other accessory parts easily to fix and easy to take off).
11/ GREEN outdoors and indoors! We are human beings, an integral part of the universe, and to feel good and stay healthy, we need to reconnect with mother nature!
We felt vividly the need to be surrounded by plants in the last years because of the pandemic, when we had to stay home, therefore, the industry of design is proposing to create an ambient surrounded by green plants.
No matter if you have a garden, a terrace, a balcony, or none of the above, you can still have green areas by introducing big and small plants into your home environment.
Moreover, furniture producers have created a large diversity of products we can use to decorate our outdoor spaces, from comfortable sofas with anti-UV coverings to special constructions with large tables and incorporated sittings.
12/ We have a REVIVAL OF ANTIQUE FURNISHINGS, or new pieces with antique origins.
True antiques, made of massive wood and natural stones are back in trend! Keep the inherited masterpieces at best.
By the way, the antique style is working very well with Eco-friendly and sustainable products, merging the same lifestyle of "giving new life to old products".
Moreover, different producers take inspiration from the antique world, creating new, modern pieces, inspired by some antique cultures.
13/ PRECIOUS STONES by material and by color is a trend that started about 5-6 years ago, and it remains in trend (I think it will always be).
Designers propose different furniture pieces made of marvelous marbles, onyxes, and granite, or with some inserts in stone, but also upholstered in fabrics or painting walls in precious warm tones (golden, bronze, and amber) or cold tones (silver, mother-of-pearl, malachite, quartz, ruby, and amethyst).
14/ Furniture pieces with CURVES, ARCHES, and BREAKING LINES – choose models with unusual shapes, that capture immediate attention.
Today the world of furniture is so varied, we can choose among sofas, armchairs, benches, chairs, beds, containers, with absolutely surprising forms. These pieces will help create personalized interiors.
15/ Last year of pandemic obliged us to work from home, which now is part of our lifestyle; therefore, we need to have a HOME WORKING STATION, that is well organized, comfortable, and aesthetically pleasing, as the rest of the house.
Most producers today propose at least one stylish working desk for the home office, so we could enjoy working anywhere.
16/ PANTONE has declared "Magentaverse" to be the COLOR OF THE YEAR 2023! But this is not all, because along with "Viva Magenta" color, which is vivid, plain, and filled with energy, we have other seven beautiful pastel colors to complete the interiors: "Pale Dogwood", "Gray Sand", "Gray Lilac", "Pale Khaki", "Fields of Rye", "Agate Gray", and "Plein Air".
Moreover, during the iSaloni 2022, we could see, that most producers gave preference to such colors as Milky White, which arrived with the Scandinavian style and has captured our heart, but also all the shades of Orange till Terracotta (remind spices and the earth), and last, but not least, Mint and all shades of Green (reminding nature).
17/ One of the latest trends is having BATHROOMS TO ADMIRE! These areas are seen today as part of the house, therefore, besides keeping it functional, it must be personalized with elegance.
Modern designers are proposing marble and porcelain stoneware for the flooring and walls, even a beautiful waterproof wallpaper paired with shelves or cabinetry, colorful ceramics for sanitary, ergonomically shaped free-standing tubs, and classy high-quality faucets.
Take care of the minimum details, including hooks for bathroom towels and water heaters. It is appropriate to have here a comfortable bench or an armchair, even a fireplace instead of candles. It is all about well-being and relaxation, a harmonious home SPA to enjoy.
Which is your favorite trend? Which one would you choose for the interiors of your home?
With my best wishes,
Nadiya
MetropolitanMe Blogger