The ENTRANCE of the house must be welcoming. You may place on the front door a beautiful wreath or, if you prefer, on the console or centered table you have in the hall, make an unusual flower composition. Choose something with black pearls or deep navy bows.
The KITCHEN is another space we spend so much time in preparations, especially in occasion of such festivities as Chritmas and New Year. Therefore, it will be great placing here some simple but captivating decorations, such as a centerpiece composition with a few blue candles and some greenery, or make a garland of flavored cookies and berries to hang near windows of on the hood.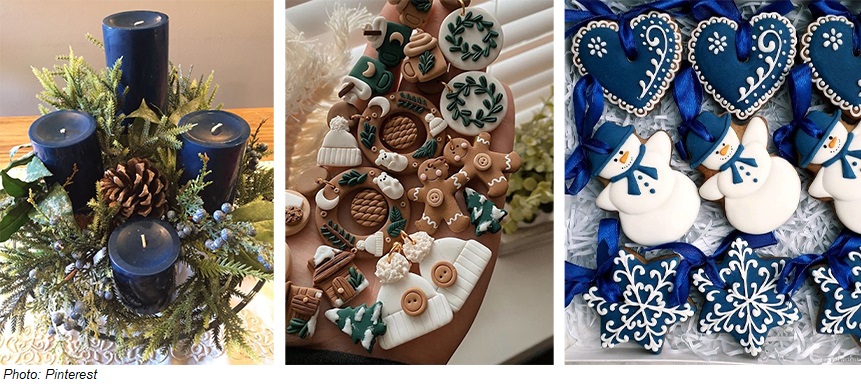 Take time and help your kids personalize the CHILDREN'S BEDROOM. The time spent together will make this season special and it will bring a joyful atmosphere inside their own private space. It will teach them to connect even more this time of the year and feel responsible for a space that is under their supervision – their room.
However, remember to use decorations that are safe and harmless for the age of your kids. Better choose plastic, different polymers, paper, and wood – materials that will not break in case they will fall. You may create free-stand compositions or some wall applications, just make sure to create something that your child loves (for example, a scene from their favorite Christmas movie, or a puzzle or painting made by them for this occasion, etc.).
The LIVING ROOM will be the perfect place to allocate the Christmas tree. I would suggest going for blue and icy color Christmas balls and adding many seasonal branches with wild berries. It will look delicious!
Prepare the DINING ROOM for a big festive table! Choose the best decorations you can find in the local stores or on online platforms. This year will be the year of the Water Rabbit, so I would suggest going for accessories reminding the water element, by color and shape, and puffy rabbits!
Looking for something special, I fell in love with tableware decorations developed by the American designer Kim Seybert, who creates pieces that add color and style to any fall or holiday table! These are my top 5 favorite models with a blue accent from the Collection Fall 2022, particularly suitable for this year Christmas and New Year's eve:
1/ The STRATA placement with DIP DYE napkin and PAVILION napkin ring
2/ The NOVA placement with DIP DYE napkin and FLARE napkin ring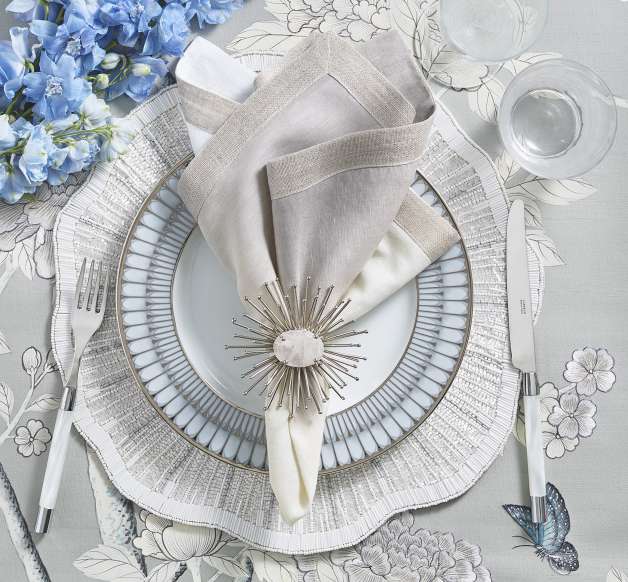 3/ The MARBLE placement with DIP DYE napkin and ZINNIA napkin ring
4/ The CROCO placement with MARBLED napkin and FRINGE napkin ring
5/ The BALI placement with FRINGE napkin and AMALFI napkin ring
Moreover, the iconic French luxury brand BACCARAT made a collaboration with Kim Seybert, and we can have a very special signature style set table. My favorite is the one in black tones – the ZÉNITH placement with the LOUXOR napkin and the ZÉNITH napkin ring. So glamorous!
Best wishes,
Nadiya
MetropolitanMe Blogger