The first product, the bed Nathalie, designed by Vico Magistreti in 1978, was awarded on 9th September 2020 with COMPASSO D'ORO AWARD FOR PRODUCT CAREER being recognized by the Academy as being "an undiscussed protagonist of Italian design culture". In the long history of Compasso d'Oro, this was the first time they awarded a product successful career and FLOU feels deeply honored to receive this recognition for the bed Nathalie, considered to be the original founder of all upholstered design beds, up to date nowadays as it was the day it was born over 40 years ago.
We live in a society where living spaces needs to be multifunctional, give us comfortability and freedom of movement, and provide outstanding living standards. So is for the bedroom, which becomes a dynamic space, where the bed is the protagonist with a mission to offer both, functionality and aesthetics, guaranteeing a good sleep. Therefore, there is a transition from the traditional "all whites" to introducing new textures, colors, graphics, forms, and different coatings to create visual interest and maintain a high comfortability level.
FLOU will be the first enterprise in the sector to perceive these requirements, and from the hands of a genius Vico Magistretti was born the bed Nathalie – a bed that is uniting innovative design and practical aspects of everyday use. With it marks the beginning of a new dynasty, becoming the "godfather of all modern textile beds", softly padded, upholstered with removable coverings, washable and interchangeable, accessorized with colorful duvet covers that substitutes the traditional bed sheets and covering: the key to success was immediately guaranteed!
Since then, FLOU continued to evolve and expand its catalogue of products with new beds, accessories for bed and complementary items for home, where each product was meticulously studied to upgrade the comfortability, wellbeing, and quality of life, studied, and released in the internal Research and Development Center of the producer company in collaboration with best designers and architects of international fame.
Today we find listed over 40 different beds, made in different sizes based on every exigency a customer may have, from single-size to matrimonial Queen and King-size, from sofa-beds to transformable beds, using high-quality fabrics, leathers, woods, and other materials, all signed by the same strong corporate DNA.
Moreover, to offer a full spectrum of products for the bedroom area, it now includes mattresses, pillows, resting surfaces/toppers, fabrics for upholstering and a huge assortment of coordinated duvets in different colors and fantasy.
At last, FLOU is proposing a collection of furnishing complements – nightstands, drawers, desks, coffee tables, sofas and armchairs, poufs and benches, mirrors, lamps, libraries, and wardrobes – all signed by "textured" sign of fabrics, standing in the corporate DNA of the brand.
The path to success was guided by its founder Rosario Messina, who received for his extraordinary career and humanitarian deeds, in June 2008 the highest honor the Knight of Labor, given by the President of the Italian Republic. The same year, he is elected to be the President Federlegno-Arredo, a federation that represents about 2.300 companies from 12 associations operating in the field of furniture-home décor. His enterprising mind, far-sightedness, and innovation spirit were supposedly the three main pillars which guided the Sicilian-originated Rosario Messina to success and made possible consolidating its new enterprise on the Lombard land of historical producers of design furniture, in the city of Meda, where he was given the Honorary Citizenship. His career is rich in recognitions and awards at national and international level. Passed away prematurely in 2011, he lives the guidance to his three children, who are taking over the vessel: Massimiliano – as the General Director, Cristiana – being the Director of Trade Marketing and Manuela – the Director of Research & Development.
Today, FLOU has is knows internationally, being represented in the best showrooms around the world from over 50 different countries and with mono brand flag-ship stores in Milan, New York, and Los Angeles.
To satisfy at best an international clientele, FLOU has always kept at heart the need to guarantee impeccable products and services. This guideline took the brand to elaborate a distinctive design, using innovative technologies and first-class raw material, developing design styles with some of the best Italian and foreigner designers and architects, among whom we find:
Pinuccio Borgonovo (Designer) – Italian by origin, he debuted in professional career and consultant for some of the leading companies from the industry. Besides designing industrial products for some producer companies, he is also in charge of the artistic direction. Today he designs products for several brands from the industry, among them are Citterio, Flou, Natevo, Gallotti&Radice, Pamar, Colico.
For FLOU he signs modular sofa Binario (2019), transformable bed Biss (2011), nightstands Juta (2020).
Massimo Castagna (Architect & Designer) – Graduated in architecture at Polytechnic University in Milan, he starts his career by opening his personal design studio AD Architecture in 1986. He created different collections for brands like Ceccotti Collezioni, Minotti Divani, Acerbis International, Rossana and Henge.
For FLOU he signs the modular sofa Softbench (2018), the modular system C-System (2018) and small tables Yari (2017).
Carlo Colombo (Architect & Designer) – Graduated in architecture at Polytechnic University in Milan, collaborates with different brands beholding "made in Italy" status at international level, working in fields of furnishings, lighting, and home décor, just to name a few: Antonio Lupi, Poliform, Baxter, Flou, Gallotti & Radice, Riva 1920, Flexform, Poltrona Frau, Penta Light, Giorgetti, Cappellini, Nemo and other. In 2013, together with Paolo Colombo, founded their own studio Architecture A++ with headquarters in Lugano,
Zurigo, Miami and Dubai, working on design at large scale, from architecture to interior design, receiving in the years many international recognitions and awards.
For FLOU he signs modular sofa Icon (2020) and beds Amal (2017), Gentleman (2014), Icon (2018) and Jaipur (2020).
Rodolfo Dordoni (Architect & Designer) – From 1989 works and artistic director and image coordinator for Cappellini, and at same time, designs industrial products for brands like Barovier & Toso, Moroso, Foscarini, Tisettanta, Artemide, Driade, Arteluce, Venini, Flos, Lema, Fontana Arte, Minotti, Molteni, Jab, Dornbracht, Sambonet, Rossana, Fiam.
For FLOU he signs the modular sofa Doze (2014) and beds Angle (2008), Iko (2015), and Merkurio (2010).
Studio OPERA – Was created in 1990 by Mario Dell'Orto, Emanuela Garbin and Enrico Cattaneo, working on different fields, from developing strategies to industrial design, from developing new projects to reconstruction projects of expositional center and exhibitions. In the field of industrial product design they signed different categories of products: armchairs, sofas, furniture, complements, always signed as OPERA DESIGN for leaders from the industry.
For FLOU they have designed the sofas Oliver (2015) and Borgonuovo (2016), beds Oliver (2012) and Mandarine (2018).
Riccardo Giovanetti (Architect & Designer) – Designed industrial design objects in the fields of furnishings and lighting, working for Candle, Firme di Vetro and Fontana Arte, and collaborating as Art Director for several companies producing prime materials for the furniture industry.
For FLOU he designed the transformable bed Cèline (2009).
Luigi Lanzi (Architect & Designer) – He is curating the image and design of all mono brand flagship stores of FLOU in Italy and abroad.
For FLOU he designed the multifunctioning standing Servomuto chair-hanger (2011).
Giulio Manzoni (Architect & Designer) – Graduated in architecture at Polytechnic University in Milan, he beholds Italian and European patented designs for many designs, among them are: the first container bed "Magico" and the transformer bed-desk "Riletto" awarded with title "Leonardo" by the Museum of Science and Technology of Milan, the bed "Ercolino" winning the prize "Design Award Professional". He is collaborating with several Italian and international brands, mostly developing products beholding multifunctional purpose and incorporating new technologies.
For FLOU he designed the transformable bed Piazza Duomo (2013).
Vittorio Prato (Architect & Designer) – Works as designer, project developer and consultant, collaborating with several leading companies from the industry, among whom are Cassina, B&B Italia, Beta Utensili, Vaghi, Interflex, Flou, Joint, Maisa, Minotti Italia, Potocco-Accademia, Former, Coopsette, Vibieffe, Valdichienti and many others.
For FLOU he designed the bed Notturno (1982).
Ilenia Viscardi (Architect & Designer) – Develops projects in the field of project design and industrial design, making customized items and assigned branding items. Collaborates with many companies as art director, curating showrooms, expositions and more.
For FLOU signed the armchair and sofa Flora (2021).
Leung Steve (Architect & Designer) – Originating from Hong Kong, he is known worldwide as architect, interior designer, and product designer. His works are distinguished by strong personality, signed by a mix of Asiatic art and culture in contemporary key. In 2015 he received the prestigious Andrew Martin International Interior Designer of the Year Award, being the "Oscar" in the field on design.
For FLOU he designed the armchair Lilia (2020).
Vico Magistretti (Architect & Designer) – His works have signed the history of Italian design, becoming an intrinsic godfather of this discipline. Among many prestigious awards and international recognitions, we can recall the Golden Medal at IX Triennale (1951), the Gran Premio at X Triennale (1954), two Compasso d'Oro (from 1967 and 1979), the Golden Medaglia from Society of Industrial Artists & Designers (1986), the Compasso d'oro for Career (1995), two Golden Medal and a Silver Medal at Wiener Möbelsalons International (1970), the Golden Chair Möbelmesse Köln (1982), the Golden Medal Apostol of Design Milan (1997).
For FLOU he signs the bed Nathalie (1978) named the "godfather of all modern textile beds" and Tadao (1993).
Matteo Nunziati (Architect & Designer) – Opens his own studio in 2000 in Milan, based on architecture and interior design, collaborating with leading brands in the fields of furniture, lighting, and home décor. In his long career he received many prestigious international recognitions and awards in design.
For FLOU he signed the Collection Gaudì 2020 (a bed, two armchairs and a sofa), the pouf Moon (2018), and the bed with bench New Bond (2019).
Studio Contromano – Founded in 2014 by Stefania Crippa and Marco Gottardi, they collaborate with some of the most important brands from the industry, creating industrial products, complements and expositional stands.
For FLOU they sign the Collection Pierre made of and armchair, a pouf, and a group of small tables (2021).
All items we can see today in the catalogues of FLOU are special, unique and of timeless design. Nevertheless, I've decided to share with you my Top 10 Favorites from the list:
Armchair and a corner armchair GAUDI – designed by Matteo Nunziati (2021) – A contemporary design piece, where the absolute protagonist is the heartwood (in coffee-brown oak or black-stained oak) going from its feet to the armrests and backrest, creating a sinuous structure to support the soft upholstery and cushions. The coverings available in fabric or leather are completely removable.
Bed GAUDI – designed by Matteo Nunziati (2021) – Is paying tribute to the noble natural qualities of wood, where a delightfully-curved structure beautifully complements the soft textiles of the covers.
Bed JAIPUR – designed by Carlo Colombo (2020) – Has an important headboard of boiserie in wood skillfully woven with artisan know-how and expert cabinet-making skills, recalling the well-known design of the fashion house Bottega Veneta. The headboard is a majestic domestic sculpture, a sophisticated weave of wooden slats like a macroscopic representation of the weft and warp of textile weaving.
Modular sofa ICON – designed by Carlo Colombo (2020) – With modern and lightweight structure, its transversal comfort allows it to slide perfectly into the home and contract environments.
Armchair IKO – designed by Rodolfo Dordoni (2015) – The high-quality materials, elegant details and soft padded seating makes this armchair perfect for the classical and contemporary style interiors. The steel tube structure comes in matt burnished finish. Details are glossy gold or glossy black nickel. The hide covers of the seat and backrest are fixed, while the coverings of the seating and backrest cushions, upholstered in fabric or leather, can be completely removed.
The day and night C-SYSTEM – designed by Massimo Castagna (2018) - A system of horizontal modular wall units, suitable both for the living area and the bedroom, according to where they are positioned and to the arrangement of the modules. The system is composed of open units with a lower shelf available in a range of ten different marble types, a drawer unit or a unit with a flap door, both fitted with a 'push-pull' opening system, and a writing desk that can be accessorized with a round mirror/vanity. Each element can be fitted with LED lights.
Side tables YARI – designed by Massimo Castagna (2017) – A group of small tables with solid steel base and tops in a range of diameters that can be positioned at the center of the living room or besides the sofas. The top with beveled edges is available in different finishes: bronze glass th. 8 mm, heat-treated matt polished Eucalyptus wood th. 20 mm, or marble th. 20 mm.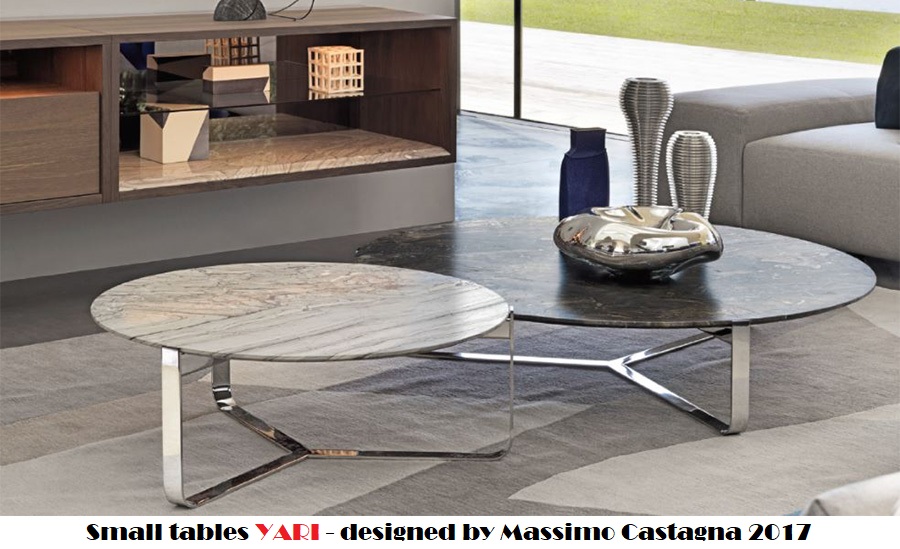 The tallboy unit ARI – designed by Emanuela Garbin e Mario Dell'Orto (2014) – The wooden structure of the night unit has been embellished by a matt lacquered 'galuchat' effect finish, available in two colors: Deserto and Laguna. The drawers are fitted with a soft-close mechanism and accessorized with handles and the base in black polished nickel, while the interiors are black stained.
Bench NEW BOND – designed by Matteo Nunziati (2019) - The padded structure is placed on cylindrical metal legs in matt burnished or polished black nickel finish and is embellished with cushions decorated by stylish exposed stitching. The structure and cushions are anchored by belts in tone-on-tone leather or in a contrasting color: a design detail to exalt the contemporary design. All coverings in fabric or leather are completely removable.
Wardrobe POOL - The door proposed in clear or reflecting grey glass, transforms this functional wardrobe into the focal point of the bedroom with a strong and determined personality. Although it confidently displays its contents, at the same time it allows to quickly identify all garments by color, making easy to decide what you would like to wear.
You can find all the collection directly on the website of the producer company www.flou.it.
Which is your favorite bed model?
Best wishes,
Nadiya
MetropolitanMe Blogger