Vibia is an international company based in Barcelona with a clientele portfolio in over 80 countries around the world and a branch in the USA. The brand has developed collaborations with architects and designers of international fame, creating unique deign objects of strong visual impact. Following I wish to share with you a small collection of my top favorites:
Antoni Arola is the designer of the Palma and Flamingo for Vibia.
My preferred is the Palma table lamp because of its simple form and warm quality dimmable light. Filtered LED light is passing through two glowing half spheres of blown opal glass, joined together by an aluminum ring in graphite or white finish.
Arik Levy has created for Vibia a series of collections, united by refined and sculptural forms, among the most recent are the hanging lamp collections Wireflow, Rhythm and North, and the architectural collections Sticks, Structural and Fold.
I adore the collection Wireflow 3D for its pure geometry (octagonal, square, hexagonal shapes), minimalistic look and incorporated technology, allowing to adjust the cable high and lighting intensity with a simple touch, obtaining unforgettable atmospheres. Its compositional structure made of fine cables finished with eight LED terminals, discretely connects with classic chandelier models, leveling up this lighting to a new futuristic appeal.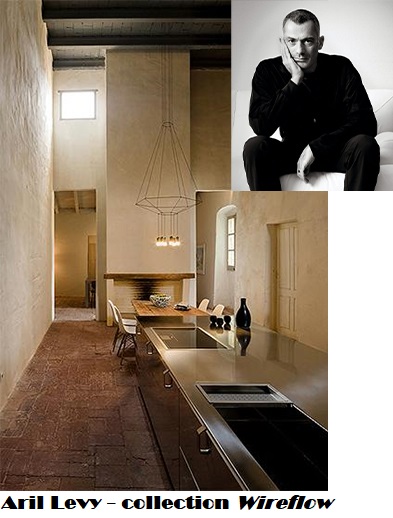 Ichiro Iwasaki is the designer of the Tube, Flat and Pin collection for Vibia.
The Pin wall lamps are among my absolute favorites. It is universal by providing both indirect ambient light and a focused reading light, so it can be installed in rooms to create comfortable reading conditions as well as in common areas where several fittings can be configured to provide spots with indirect lighting. The diffuser can be turned around to focus the light where it is needed. Available in white, black, cream, and green matt finishes.
The designer Jordi Vilardell is a specialist in decorative and technical lighting, who firmed for Vibia a series of elegant and pure line collections: Puck, Slim, Wind and other.
My favorite is the hanging lamp Slim – refined and slender - projecting a pleasing accent lighting. It is manufactured in several versions: individual, 4, 6, 7, 10, 13 and 22 cones making it suitable for both private and public use. With patterned glass diffuser and LED light source, it is available in two colors: white lacquered fiber or black carbon lacquered fiber, or alternately in a customized color.
The design studio formed by Lievore Altherr Molina (LAM) has developed many lighting collections for Vibia over the years, among them are the hanging lamps Big, Cosmos, I.cono, Skan, and Swing, outdoor lighting Brisa.
My favorite collection is the Cosmos hanging lamps consisting of pendant light clusters, flattened forms of different sizes and colors that create an optical illusion of floating spheres in the air. These are manufactures in several matt finishes: chocolate brown, green, light grey and white.
Toan Nguyen is a designer of international fame, who signed for Vitra the collection of hanging lamps Algorithm.
It is a breathtaking collection, magical in so many ways. It fuses beauty and geometry to create visual interest and captivate imagination. The Algorithm collection is composed of configurations of hand-blown glass sphere with a LED light source, suspended in the air via a tensile cable at different heights and attached to the ceiling via a floating tubular structure. It is available in lacquered matt finish color graphite and white.
The designer Josep Lluis Xuclà presents a series of lamp collections for Vibia, both for indoors, such as the Set lamps, as well as for the outdoors including the Boxes, Empty and Palo Alto collections.
I absolutely adore the outdoor collection Empty for its pure lines and minimalistic timeless design. This collection aims to integrate lighting sources with side tables and stool modules in unique pieces of furniture. These are proposed in different sizing, that can be adapted to outdoor use, both for garden and terrace areas.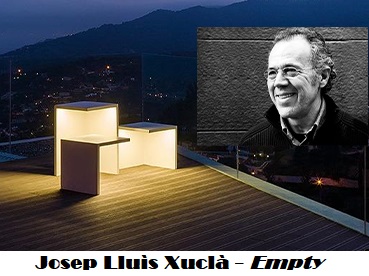 Best wishes,
Nadiya
MetropolitanMe Blogger