So, here is a list of my 5 TOP FAVORITES of this week in interior design:
The coffee tables RUMORS, designed by Mauro Lipparini, a leading Italian architect and designer, working intensively in the field of industrial design, covering office and home furniture, but also textile industry and other products. This design product is made by the Italian producer company Arketipo www.arketipo.com .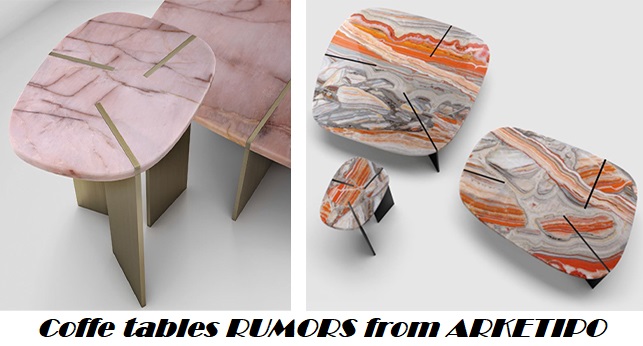 These small tables have asymmetric and minimalistic design and are made of unique materials such as particular marbles and Onyx, which make them a perfect fit for a modern, avant-garde, and contemporary interior design.
These coffee tables are proposed in 3 sizes: 30x40 h50 cm, 75x100 h36 cm and 115x120 h28 cm. The structure is made of brass or black nickel, while tabletop is proposed in marble Flamingo Quartz, Tangerine Onyx, Arabesque Grey, Slate Grey or Niveo White.
Remaining on avant-garde design and shapes, and always with unique appeal, here is another design item released this year 2021 – a limited edition collection of carpets HIMANI, produced by the Italian company Baxter www.baxter.com .
Each variant, for a total of five (A, B, C, D, E, H), is a combination of irregular shapes and a mix of different colors, textures, and surfaces, altogether releasing attractive vibrations and feelings, increasing the unstoppable desire to touch and look.
Moreover, the Himani Collection is carried out in Nepal, hand-knotted and hand-sewn, using a mix of yarns: Ngari twisted wool, Himalaya wool, linen, Indian sari silk, and viscose. The rug is developed on 4 fleece heights that are hand-cut and hand-finished. The entire process made of artisanal work transforms these items into real art pieces to enjoy every single day.
Currently, we can choose among five different variants in particular sizing and color combination:
Himani A: 290 x 165 cm, 113 x 64¼"
Himani B: 190 x 190 cm, 74 x 74"
Himani C: 220 x 180 cm, 85¾ x 70¼"
Himani D: 180 x 245 cm, 70¼" x 95½"
Himani E: 200 x 215 cm, 78" x 83¾"
Himani F: 255 x 190 cm, 99½" x 74"
The coffee table MONETE made in hand burnished metal, unique and exclusive, designed by Massimo Castagna for the Italian producer company Gallotti&Radice www.gallottiradice.it .
This coffee table is proposed in two sizes: 47 x 48 h52 cm and 52 x 55 h47 cm.
The metal looks naturally spotted and irregular. Possible marks and spots, occurred during hand-making process, as well as variations in color, are due to the process which speeds up the natural oxidation of the metal. They enhance the beauty and distinctiveness of its uniqueness, making this object a perfect fit for lofts and apartments in high-tech industrial design style.
Let's not forget about our gardens, terraces, and pool area. For this reason, I thought to bring to your attention the sofa and armchair model LIDO CORD, designed by the Gam Fratesi Studio for the Italian producer company Minotti Divani www.minotti.com .
Lido Cord Outdoor Collection is comprised of a sofa, armchair, footstool, dining, and lounge little armchairs, with a base made in bronze-colored varnished aluminum, covered with polypropylene cords in bright tones (Citron, Blue and Petroleum, or the more traditional shades of Dark Brown and Sand).
The sofa has a unique ergonomic shape, on one hand it offers a formal seat, on the other its depth is extended, becoming a bergère, with backrest as a cuddle. An exquisite invitation to lie back and relax in a cozier way.
My absolute favorites are the two-seat sofa (size and the bergère with pouf – perfect for any location, indoors and outdoors. Upholstering is proposed in a vast selection of fabrics in certified and recyclable polypropylene, resistant to every weather conditions.
The last on my wish-list today is the comfortable swivel armchair LIVRE designed by Federica Biasi for the Italian producer company Gallotti&Radice www.gallottiradice.it .
This upholstered item is padded with fire resistant non-deformable polyurethane foam of different densities and fire-resistant polyester fiber. The structure made in solid ash is black painted and has a 360° swivel movement with return. Covers are proposed in fabrics or leather and are completely removable.
If you enjoy such informative blog posts and more related to the world of interior design, please Subscribe to my Newsletter and my new YouTube channel (it is free of charge) and let's keep in touch. Moreover, you can address me questions, I'll be happy to be of any help and make new acquaintances.
With best of wishes,
Yours,
Nadiya
MetropolitanMe Blogger