This is the history of a dress, which was introduced in the eighties in the USA with the cult tv-series "DYNASTY". This project aimed to show off the luxurious lifestyle of oil tycoons through life stories, mergers and acquisitions, magnificent properties, intricate relationships, betrayals, and love stories. "Dynasty" left a visible trail of powerful and wealthy people living an extravagant and luxurious lifestyle.
Although a few remember this tv-series now, many iconic costumes are of reference until today. It includes an entire encyclopedia of costumes describing the Eighties Fashion Styles in the USA.
Nevertheless, female protagonists of this tv-series, actresses Joan Collins and Linda Evans, became fashion style icons of an entire Epoque. On the screen, we saw dresses from the fashion houses like Christian Dior, Yves Saint Laurent, Givenchy, and more.
Female images were created by the best costume designer on tv, Nolan Miller, an American fashion and jewelry designer. Thanks to his undisputed skills, great taste, and talent, "Dynasty" became the first soap opera to reach high-fashion standards and enter history.
The dress style featured on the scene of "Dynasty" is the incorporation of sumptuous classical style, a "business card" to luxurious powerful women. The "golden standard" for females of those years was the famous "90-60-90" (breast-waistline-hips), emphasizing with perfection all style dresses of those years: an accent on the slim waistline, wide padded shoulders, deep sexy cuts, and tapered to the bottom silhouette.
Daily outfits had a length for most dresses reaching the knee line, or even lower by 2-3 cm, while evening gowns were long length. For their creation, were using noble materials, bold accessories, and suitable jewelry, enhancing the vivid and confident look of powerful women.
The most exciting power of the "Dynasty" dress is its feature to easily transform from office look into festive and bright with a simple touch - by changing the accessories.
The most evident features of this style dress are:
- wide positioned shoulders, achieved by padded inserts.
- dolman sleeves that help emphasize large shoulders.
- the waist is tightened with a wide belt with a beautiful and expensive buckle, which on the background of high-positioned shoulders and wide dolman sleeves, makes the waistline look even slimmer.
- moreover, the belt must match in color or material with shoes, bag, or the overcoat.
The perfect fit for this dress will be a pair of pointed stilettoes on high heels, matching the dress in color or metallic shiny leather. The geometry of this silhouette dress will be sustained by a clutch of rectangular shapes, in the same color as the dress or the shoes, or a colorful classical chain Chanel bag. The dress will give the most with bold and aggressive jewelry, which can be precious stones or high-quality fine jewelry, like shiny necklaces, bold earrings, bracelets, brooches, but also some statement sunglasses to keep the luxurious look of a confident woman.
A few words about a FASHION MOMENT: the high-positioned wide shoulders that are so fashionable until today…
There are two opinions on how THIS TREND WAS BORN in the 80-s and entered women's wardrobes around the world.
According to the first opinion, we oblige the success of this trend to Nolan Miller, the costume designer on tv-series "Dynasty". He used this trick placing padded inserts on shoulders to make one of the actresses from the cast look taller on screen, and altogether more organic next to other actors/actresses.
Soon after, this trick was embraced by many fashion designers creating clothes in the eighties, were using padded shoulders in constructing jackets, coats, even cardigans, and t-shirts willing to hold the shape. However, when desired, these padded inserts could be removed since they were fixed on Velcro.
According to others, fashion designers borrowed this element from men's wardrobes where padded shoulders were used to create structured silhouettes, reflecting business rigorous style. In the 80-s, women started to work in all business sectors, occupying directing positions, therefore had to "play by men's rules", and their dress style also had to reflect a strong decisive character.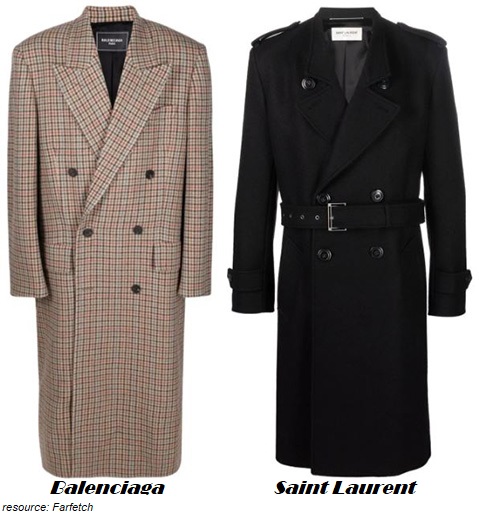 A straight shoulder line and laconic silhouette in business style gave confidence to women, actively concurring leading positions in the business world. Nevertheless, to not lose the feminine charm and make a great impression, a business style was accessorized with romantic details (applicable collars, voluminous bows, high belts, puffy sleeves) and chose fabrics in a vivid color palette. It made a significant shift in women's worldview, where rigorous black suits were left aside, and replaced by colorful suits, allowing women to feel feminine and sexy even when wearing a business style.
Best wishes,
Nadiya
MetropolitanMe Blogger
Photo resources: www.farfetch.com