Dresses with bottoms richly embellished with ruffles were in style in the XIX century, worn by ladies from the high society.
Today, such dresses are met rarely, since they are quite particular, often with exaggerated volume made with ruffles (or other applications, like feathers), and therefore, is a dress for special occasions, like cocktail hours and special events. Nevertheless, this style dress gives unique opportunity to designers to create unique shapes and experiment with materials and applications.
This style of dress may have different names and origins, differentiating slightly in its silhouette:
The RUFFLE dress = it started with crimped or ruff collar, usually wide and full, worn in Europe in the 16th and 17th centuries, both by men and women. Later, it was applied on different items, arriving to create dressed that incorporates an abundance of ruffled material or decorative frill, from the neck or hemline to the bottom, adding volume and creating unique silhouettes. This style is often proposed by Valentino, Oscar de la Renta, and Molly Goddard.
The SMOCK dress = having a voluminous silhouette that hangs loosely on the body with a fabric application folded upfront, originally worn by rural workers in England and Wales throughout the 18th century; it became a popular style for children's fashion in the 19th century.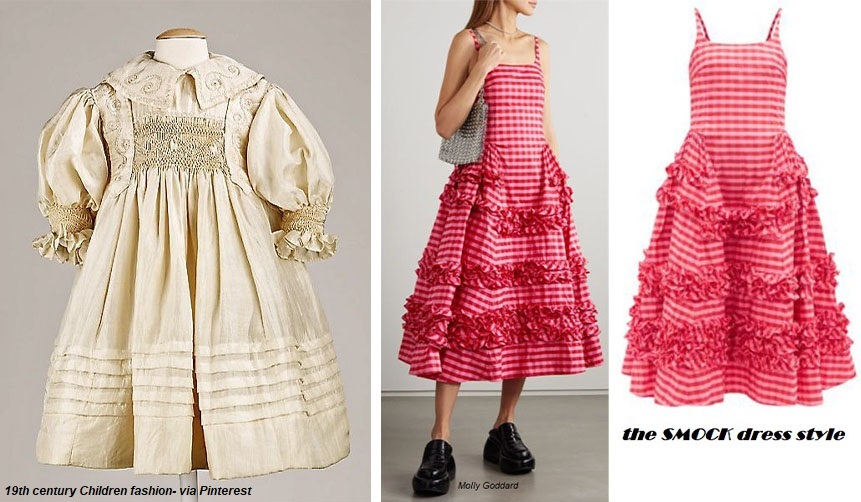 Lovers of these style dresses agree that ruffles can never be too many. Such dresses are often encountered in the wardrobes of Baby Ladies and Teenager Ladies. However, with time, small girls grow up, but the love for rushes and frill is carried further to adult life. We may change the preferences in color and the desire to experiment with trends and different styles, but every girl will keep in her heart (and wardrobe) at least one ruffle dress.
A dress with ruffles creates sinuous movement, adding femininity. This style dress goes mostly with no strapless, has high waistline and loose bottom, making it very comfortable at wear. Ruffles usually decorates the dress from the bust line down to the bottom, length mini or to the knee.
The volume and detailing of such a dress will make a statement, no matter where you go. The best way to wear it, will be with a simple clutch envelope and some extremely fashionable and trendy high heels. No additional accessories are needed, except for a pair of high-quality stud earrings and a unique cocktail ring.
For the daytime, you may wear it with a bolero or jacket to cover your shoulders.
Best wishes,
Nadiya
MetropolitanMe Blogger
Photo resources: www.net-a-porter.com / www.matchesfashion.com